Im not one who has alot of ref's or anything but i have stumbled upon a great way to get LOTS of more views on videos, I figured i would share.
The program name is Viewet, This is not like other program's. Most programs are "bots" wich use proxies to view your videos also causing your video views to unfortunately freeze. Viewet uses people using there program to view your video. So in basic terms Real people view Your videos. The program works this simple You earn credits to get video views 1 credit is 1 view, You get credits by viewing other youtube video wich are embedded into the program itself. The program views videos (once you click start) by itself changing videos for you every 8 seconds obvsiously making credits is very easy (click start go to sleep LOL). Ok now most of the explanation is done time for the tutorial to setup and use!
step 1: Download the program. http://viewet.com/download.php
step 2: Register a FREE account through the program itself after downloading.
step 3: Click earn credits then click start (now your earning credits!)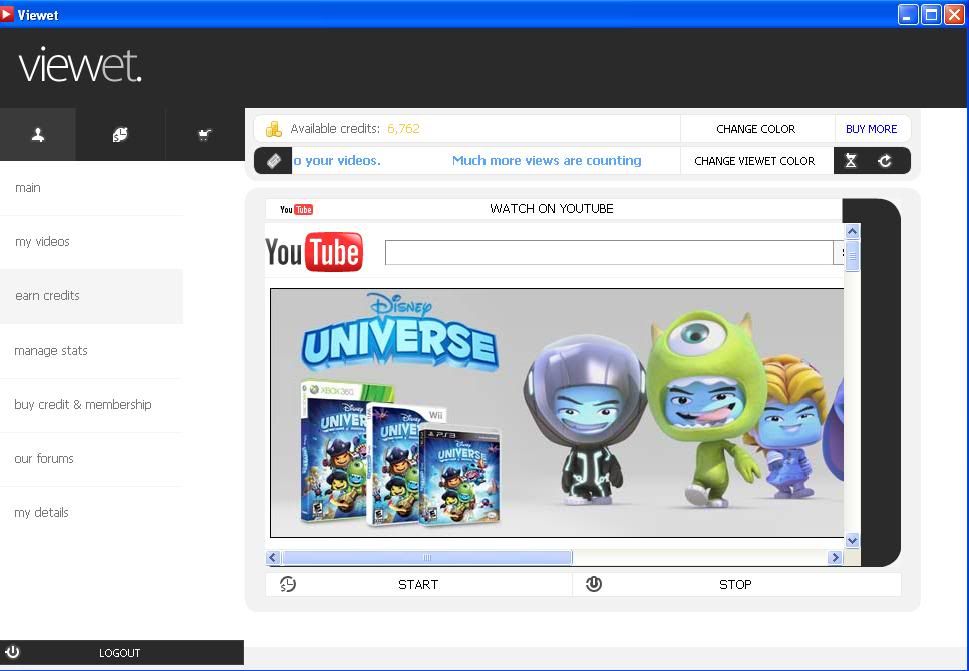 step 4: Once you have your desired amount of credits click My Videos then Submit Video and enter a video link.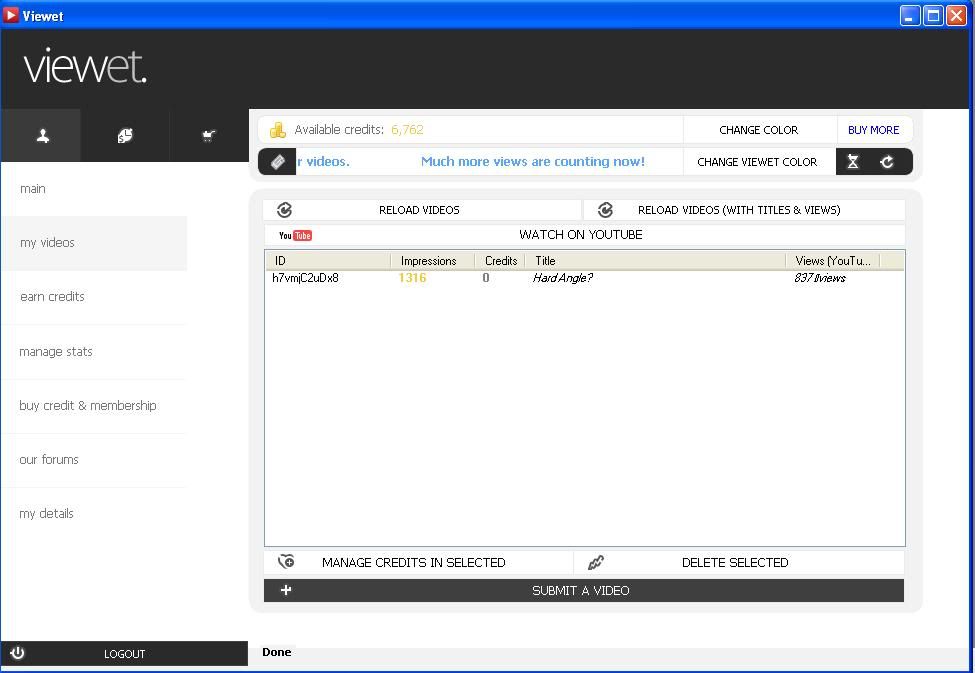 step 5: Highlight the video name that you just added and click "MANAGE CREDITS IN SELECTED' and input the amount of credits you desire to use!
Note, you can also see how many credits you have at the top of the program as you can see mine itll look similar to this at the top.

The video ive uploaded in the pics i have only uploaded 4 days ageo.
If your thinking if there not fully watching the video whats the point? The point is the more views you get the more popular the video comes up in searchs (such as on higher pages such as 1 instead of 3 as an example of course) It helps it get more known and seen more often.
The more views from the program the more popular your video gets. Once your video is popular the video gets its own views from people actually on youtube. Programs like this simply help to get your videos more popular sometimes even on the "most discussed page". Or on the first page from a youtube search for one of your tags
Also muting your pc's audio would help from the random video sounds xD
If anyone has any questions feel free to pm me and ask them. I'm always willing to help.
Update: There is a few more website available there are simple to use such as this one below.
enhanceviews.com This website is also very great! You can get comment's, subs, and views without any download's. The website's features and navigation are very user friendly!